Purchase original prints by Andrea Pisano
Editions
All artwork displayed in the Print Sales section under "Editions" may be purchased as an original, limited-edition graphic print, signed by the artist. Each work is produced with professional digital printing equipment on Constellation Snow Raster 280 gram paper made by Fedrigoni and mounted on a white museum-quality, acid-free matboard of 5 mm. Some prints are sold without the matboard frame as specified in their related entries.
The artist guarantees the authenticity of every print.
Each print is stamped and signed by the artist on the back with the number of the edition.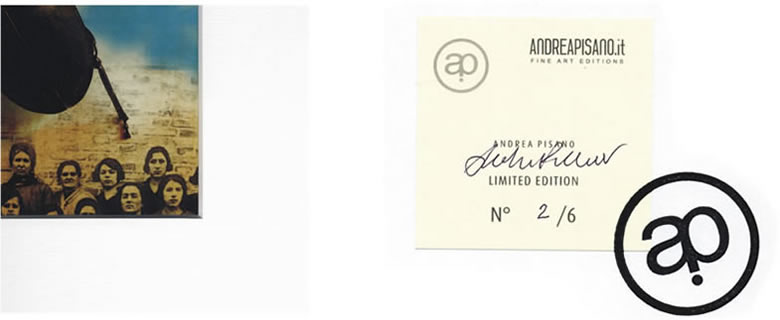 How to order
Browse through the collection and make your selection(s). Send a message to us and include the title and picture code found below each work.

Payment
Within a few days of receiving your message we will send you an email confirming the availability of the items ordered, the exact cost including sales tax (VAT) and shipping charges, and the information required to make payment by bank transfer or credit card. If you make a payment with bank transfer (bank wire), please send a copy of the payment receipt by fax or email.

Custom Portfolio
In addition to the original limited editions as described in the section "Editions", you may purchase a personalized portfolio containing prints chosen by you in a paper size of 15 x 15 cm, mounted on a professional white acid-free matboard frame with an overall dimension of 30 x 30 cm. These graphics are stamped on the back by the artist (unsigned), are reproductions, and are not limited editions.

3 prints: EUR 90.00
5 prints: EUR 140.00
7 prints: EUR 180.00

Technical Information
Printing technology : Laser - Digital Durst Lambda 131
Media: Raster paper - Constellation Snow - Fedrigoni - 280 gr, matte photo paper
Mounting: White museum-quality, acid-free matboard frame of 5 mm with 45° bevel cut

Delivery times
Some prints are printed upon receipt of the order, and others are preprinted and ready for immediate delivery. Therefore, depending on the selection, delivery times may vary.

Packing and packaging
All prints are packed for shipment in special reinforced cardboard boxes.




Terms and Shipping
Shipping costs depend on the quantity, size of items purchased and destination. You will be notified via email with the exact cost.

Guarantee
If you are not satisfied with your purchase, you can get a full refund (excluding shipping) or replacement of items damaged in transit (shipping costs charged to you) by simply notifying us via email no later than 30 days after delivery, and returning the prints either by regular mail or by courier.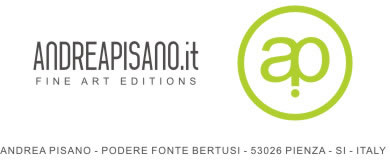 Acquista le stampe originali di Andrea Pisano
Editions
Tutte le opere esposte nella sezione Editions del Print Sales sono acquistabili come stampe grafiche originali a tiratura limitata firmate dall'autore. Ogni opera è stampata in digitale con macchine professionali su carta Raster Constellation Snow - Fedrigoni da 280 gr. e montata su passepartout museale bianco acid-free da 5 mm. Alcune opere come specificato nelle relative schede sono senza passepartout.
L'artista garantisce l'autenticità di tutte le opere vendute.
Ogni opera è timbrata e firmata sul retro dall'artista con indicato il numero della tiratura.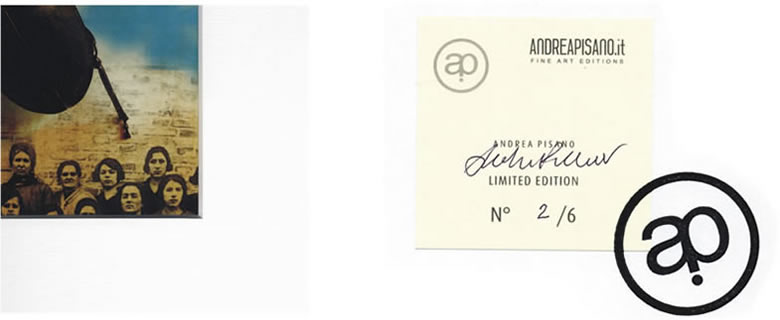 Come ordinare
Scegli le opere navigando tra i works. Invia un messaggio indicando il titolo e il codice foto riportato sotto ogni opera.

Modalità di pagamento
Entro pochi giorni dalla ricezione del tuo messaggio ti spediremo via email la conferma della disponibilità delle opere ordinate, il costo esatto comprensivo di IVA e spese di spedizione e i dati per procedere al pagamento tramite bonifico bancario o carta di credito. Effettuato il pagamento dovrai inviarci (via fax o email) una copia della ricevuta di pagamento.

Portfolio personalizzato
Oltre alle edizioni originali descritte nella sezione Editions, è possibile acquistare un portfolio personalizzato contenente le stampe scelte da te, in formato carta 15x15cm, montate su passepartout professionale bianco acid-free 30x30cm. Queste grafiche timbrate sul retro dall'artista (senza firma) sono riproduzioni e non sono a tiratura limitata.
3 immagini: euro 90,00
5 immagini: euro 140,00
7 immagini: euro 180,00

Informazioni tecniche
Stampe: - Laser - Digitale Lambda durst 131
Supporti: carta Rraster Constellation Snow - Fedrigoni da 280 gr, carta fotografica matte
Montaggio: passepartout museale bianco acid-free da 5 mm con taglio a 45°

Tempi di consenga
Alcune opere vengono stampate al momento dell'ordinazione, altre sono già disponibili e stampate, quindi i tempi di consegna possono variare.

Imballaggio e confezione
Tutte le stampe vengono confezionate per la spedizione in apposite scatole di cartone rinforzato.




Modalità e costi di spedizione
I costi di spedizione dipendono dalla quantità, dal formato delle opere acquistate e dalla destinazione. Il costo esatto ti verrà comunicato via email.

Garanzia
Se non sei soddisfatto delle opere acquistate puoi ottenere il rimborso totale (escluse le spese di spedizione) o la sostituzione delle opere eventualmente danneggiate dal trasporto (costi di spedizione a tuo carico): devi semplicemente darne comunicazione via email entro e non oltre 30 giorni dalla consegna, e restituire le opere acquistate inviandole per posta o tramite corriere.